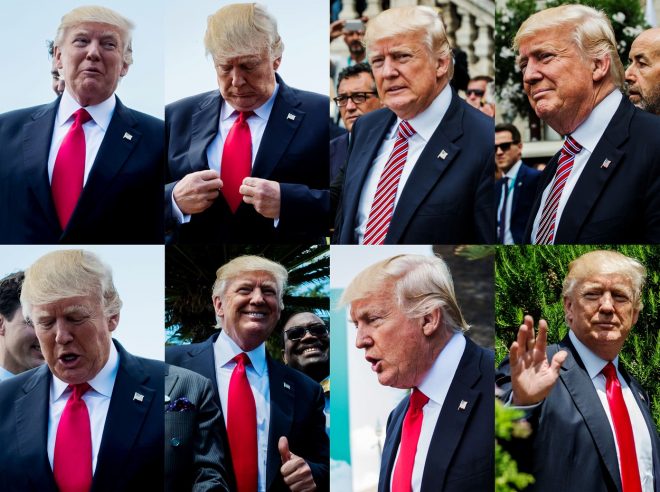 Donald Trump is becoming increasingly isolated and stressed as the demands of the Presidency take its toll, according to a new report.
"He now lives within himself, which is a dangerous place for Donald Trump to be," one source close to Mr Trump told CNN.

"I see him emotionally withdrawing. He's gained weight. He doesn't have anybody whom he trusts."
The presidency is too much for Trump
The President was already "in a pretty glum mood" before his first foreign trip to the Middle East and Europe, according to the source.
On his return, his woes intensified as fresh allegations emerged which centre on the role of the President's son-in-law, Jared Kushner, in communications with the Russian government.
It is my opinion that many of the leaks coming out of the White House are fabricated lies made up by the #FakeNews media.

— Donald J. Trump (@realDonaldTrump) 28 May 2017
Last week, The Washington Post reported Mr Kushner had met a Russian ambassador to discuss setting up a channel which would be immune from security monitoring.
A security analyst who worked at the CIA for 25 years said yesterday it was "hard to believe" the President had no knowledge of his son-in-law's actions.
"I'm going to presume he did this at the behest of the President-elect of the United States," Philip Mudd told CNN.
Trump probably the least educated president in history
President Donald Trump does not read – except in small doses and when his own name appears prominently. Prior to the presidency, his only activities were work and golf. He does not mingle with intellectuals, cultural trend-setters or artists.
It should come as no surprise – and it has not – that he is sorely lacking in sophistication, knowledge of the world, understanding of government and a rudimentary grasp of economics.
He surrounds himself with dim yes men who know little more than he and, in any event, tremble at the prospect of correcting their "Dear Leader." But sometimes you wonder whether Trump is just, well, dumb.
The Associated Press reports:
President Donald Trump has been handing out his cellphone number to world leaders and urging them to call him directly, an unusual invitation that breaks diplomatic protocol and is raising concerns about the security and secrecy of the US commander in chief's communications. Trump has urged leaders of Canada and Mexico to reach him on his cellphone, according to former and current US officials with direct knowledge of the practice. Of the two, only Canadian Prime Minister Justin Trudeau has taken advantage of the offer so far, the officials said… "If you are speaking on an open line, then it's an open line, meaning those who have the ability to monitor those conversations are doing so," said Derek Chollet, a former Pentagon adviser and National Security Council official now at the German Marshall Fund of the United States.