BehaviourExchange will offer everything that companies and webmasters need to create better user experience for online visitors. Our mission is to change corporate behaviour in everyone's favour!
Dear online visitors, please join us in global movement which will shape the future of the online environment and create a more satisfying digital experience for businesses and customers alike. With your engagement, web visitors will immediately find relevant products and services tailored to their needs instead of getting bombarded with irrelevant content.

We will award your activity on our Telegram group with BEX tokens. We allocated 300.000 BEX tokens to our Telegram Bounty program. The program will run from 7 February 2018 until the end of the Public Token Sale in April 2018. The bounties will be paid within 30 days after the end of the Public Token Sale.
How to participate?
Join us on

Telegram

!




2.

Register

for the Telegram bounty program.




3. Get involved! Check out our website, whitepaper, lightpaper and other materials that we will provide in the future. Ask questions, find topics you would like to better understand, let us know where we can improve our presentation or simply highlight what seems important to you.




4. Follow your Telegram activity on our

tracking page

.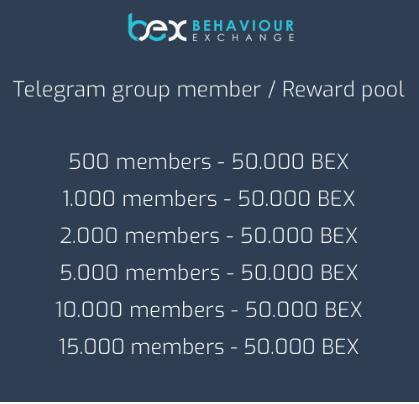 A reward pool will be distributed after the community reaches each milestone. The top 20% of the most active users ranked by activity on our tracking page will split the reward pool. The split will be weighed by activity percentage, rewarding more active members with more BEX tokens. The tracking page is run by combot.org.
Telegram Bounty Program Rules:
The use of automated bots or similar tools to fake engagement are not allowed and will not result in BEX bounty rewards.

Messages must be on topic and constructive.

Excessive short text and emoji/sticker only posts will not count.

Disruptive users, using bad language, spamming, advertising any other service, etc. will be banned from both the bounty campaign and the chat.

Inactive users will be disqualified from the bounty campaign.

Users must stay in the group until the end of the Public Token Sale.

Only one account on Telegram is allowed. A person found to be cheating by creating multiple accounts will be disqualified.
Suggestions for any awesome promotional idea?
If you have an idea to promote BehaviourExchange in order to build our community, please let us know at: bex@behaviour.exchange
Pre-sale starts on 23 February 2018

If you wish to participate in our private pre-sale starting 23 February 2018, sign-up for Whitelisting now!
Final note:
BehaviourExchange has the right to stop the bounty program at all times, depending on the response and feedback from the community.
It is BehaviourExchange's discretion to decide whether or not the criteria to qualify for a bounty allocation are fulfilled.
Awarding of bounties may be withheld at the discretion of the BehaviourExchange team, but we are sure most, if not all, candidates will be awarded, as long as the conditions are met.
Additional bounties may be awarded at BehaviourExchange's discretion in case there are leftover BEX in the complete bounty allocation pool.
For legal requirements, please note that KYC will be required before tokens are awarded at a later stage. We seek your kind understanding in fulfilling KYC requirements.
Keep in mind that this is just the first bounty with many more to come, especially as we get closer to our Public Token Sale.
So stay tuned & follow BehaviourExchange on Facebook!